Blog (EN/HR)- From Sunči app and nudging interventions to energy efficiency of your household / Uz aplikaciju Sunči i poticajne intervencije do novih energetskih navika
Uz aplikaciju Sunči i poticajne intervencije do novih energetskih navika – See here this blogpost in Croatian.
---
From Sunči app and nudging interventions to energy efficiency of your household
The strategic priorities of the European Union set by the EU Green Deal have put focus on a green, energy and digital transition towards a climate-neutral continent.
The strategy overflows into the 'Fit for 55' legal package, and is reinforced by the program for accelerated transition and reduction of dependence on imported fossil fuels (RePowerEU), with ambitions for more savings and more energy produced from renewable sources, including solar.
To achieve this, a lot of effort and investment is needed, and not only in technologies like PV systems and digital infrastructure, but also in people: empowering users to more actively and effectively monitor and manage their energy consumption through new behavioral patterns.
This is exactly the consumer behavior topic that brings us to the European-funded project NUDGE, in which the Green Energy Cooperative (ZEZ) participates as a partner by implementing innovative pilot interventions to encourage changes in energy use. We asked its project manager Lucija Nađ to guide us through the important insights of the project.
What is "nudging"?
Nudging is a term from behavioral economics and psychology that suggests that small changes in the environment can prompt people to make decisions that are in their best interest. Thus, nudging is a subtle reminder or suggestion designed to influence behavior in a specific, predictable way, often making a particular choice easier or more attractive, without limiting freedom of choice. An example from everyday life is placing healthy food products at the eye level in a canteen, which can be considered an incentive to make healthier food choices. The key is to design incentives that are not intrusive, that are easy to understand and attractive to the target audience.
In our example, it is about encouraging users to reduce electricity consumption through smarter and more efficient management of self-consumption in households that also produce their energy with a solar PV system. In the NUDGE project, nudging techniques were used to encourage behavior change in the form of content that users see and learn using the Sunči app, which the Green Energy Cooperative developed specifically for this purpose. For example, the app tells the user "Today is a sunny day, your solar PV system is producing at full capacity, which is an ideal time for self-consumption of electricity: turn on the washing machine or/and charge the battery of your EV." The ultimate goal is to maximize self-consumption of energy in the simplest possible way.
How does it work?
Based on the results of research conducted in 29 EU member states, including Croatia, insights about their behavior and energy efficiency have been collected. Behavioral experts have used that to create profiles of six types of energy consumers.
Consumer types vary from those who are environmentally and energy conscious and well informed, to those who are concerned but primarily oriented towards comfort; those who are tech-agnostic, love comfort and behave irresponsibly towards energy consumption; and those who are materialistic and run away from personal responsibility, but are "afraid" of high expenses. You can find more about the types of consumers and incentives for behavioral changes through this informational poster.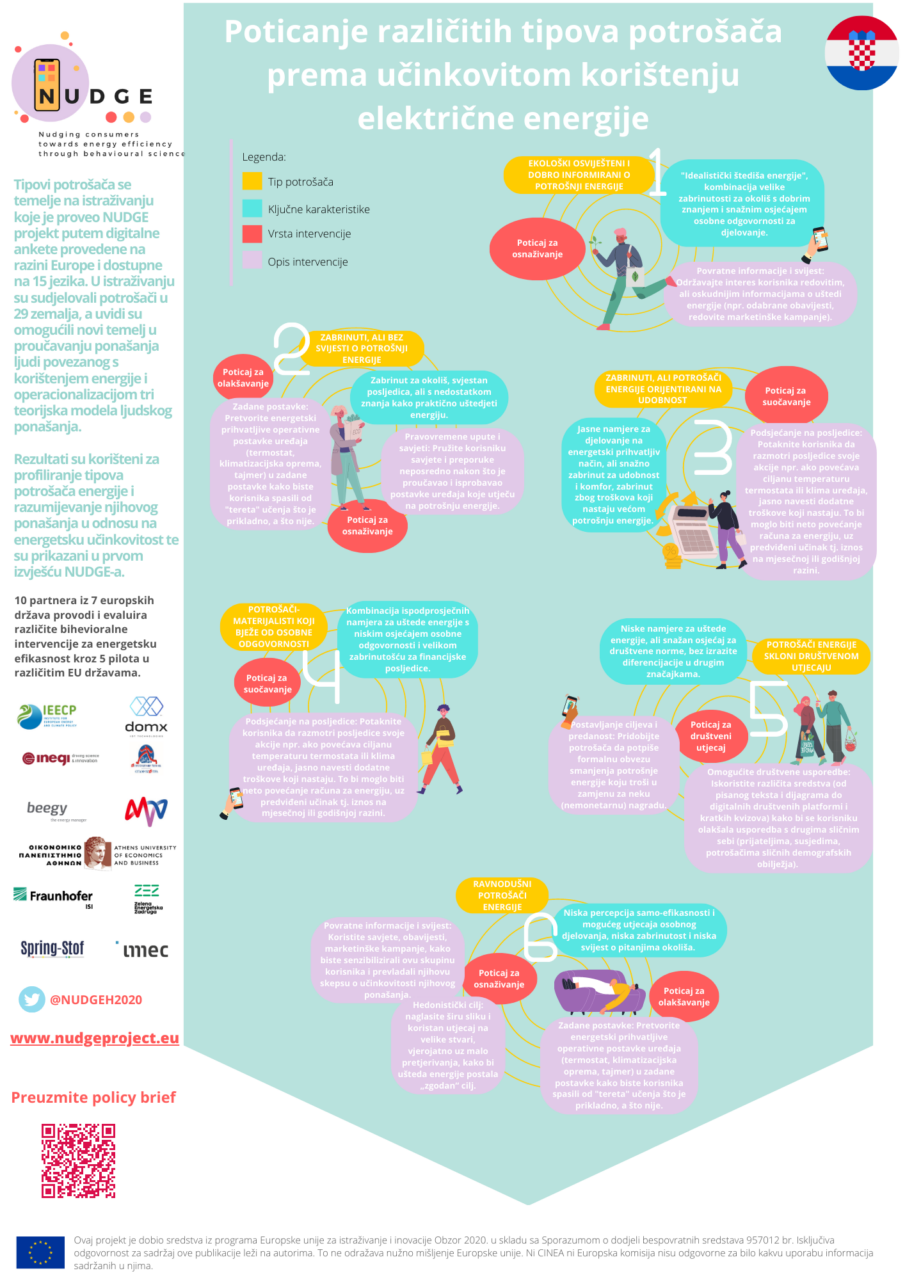 What is Sunči and what was ZEZ's focus within this project?
In order for users to be able to manage their energy consumption, they must be able to monitor energy data, such as production from a solar PV system, household consumption, self-consumption, and energy delivered and taken from the grid. This required the installation of smart meter devices to collect this data. And to make the data available to the users in an educational and comprehensible way, we created the Sunči app. The app was tested on 82 users.
LET'S MEET SUNČI
Sunči collects data via a smart meter device (Shelly) installed in the main fuse board in the house to measure electricity consumption in the household and in the fuse board of the solar PV system, where it monitors production and consumption. The collected data is translated into graphics that enable the user to easily manage household consumption in relation to energy production. Sunči is the first application of its kind that shows users' measurement data, and in Croatian!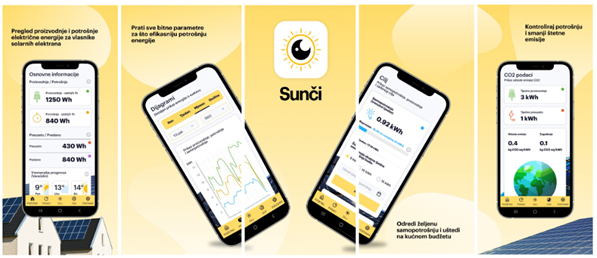 Through Sunči, we also did nudging interventions – advice to users according to their user type. We are now in the third and last intervention before the end of the project. This intervention was preceded by an intervention that gives feedback and raises awareness about consumption, and an intervention that nudges a consumer to set a desired goal for savings. ZEZ plans to continue developing the Sunči app and offer it for use to other interested consumers after the end of the project.
At the beginning of the implementation of the NUDGE project, we launched a communication campaign to identify users who meet the technical conditions to enter the pilot group of the project. Out of over 430 expressions of interest from all over Croatia, 82 users from the area of Slavonia and Continental Croatia were selected to receive free smart meter devices for monitoring energy consumption and production in the household. We had to limit the geographical area of the pilot group due to the similarity of climate characteristics, the intensity of solar radiation, and the availability of local installers – that is, the implementation of the research itself, so there would be no deviations and irregularities in the collected data.
Users' experience:
"I like the devices because they are as accurate as the bills I get from the HEP (Croatian electricity company), but the HEP readings only come next month so you can't track your daily consumption and production, whereas with Sunči you can, which is much better and more practical. It simply makes sense."
"It is necessary for something like that to exist in Croatia. It is a pity that the installers do not immediately do this when installing the solar PV system to manage its production and consumption. It is also a shame that the law is so strict that you move to another model of consumption if you exceed the production limit. Without monitoring, you can't know how much you spend and produce."
User from the city of Vrbovec, Croatia
"I like to see the graph, but you can't see the numbers unless you click on a column. The Shelly device has a more complicated app compared to the Sunči. Sunči is simple, understandable, has a nicer name and it is great that it is in Croatian!"
Users from the city of Prigorje Brdovečko, Croatia
Why is this important?
We have noticed that electricity users often do not understand how energy is consumed. It is not clear to the majority which devices in the household consume more and which less energy, which is important for efficient management of self-consumption in the real time. Users are aware that there is a higher (more expensive) and lower (cheaper) tariff, but they lack a way to monitor actual consumption, especially in relation to the production of their own solar PV system. With the Sunči app, all of this is monitored in one place. Encouraging changes in the use of energy is an important solution that results in the adoption of habits that contribute to reducing the carbon footprint, more efficient use of local resources and increasing energy self-sufficiency. At the same time, the user's energy and environment awareness increases.
What did the research of other project partners show?
The project includes a total of five pilot locations at the EU level, each focused on a different segment of the use of renewable energy in the household. In Belgium, they were engaged in education system to raise awareness about energy efficiency from a young age, in Greece they encouraged efficient management of heating and domestic hot water by installing smart meter devices, in Portugal they encouraged energy savings (electricity and gas heating) in households of families with children, while in Germany they focused on EVs and charging optimization. The pilot locations have shown that nudging techniques are applicable in different segments of energy consumption. With the help of behavioral science, we can significantly contribute to a more responsible and efficient use of energy.
Next steps?
We invested a lot of effort and time in the development of the first Croatian app that offers the possibility of monitoring energy consumption and production for households that have installed solar PV systems. With the experience gained, we see room for its improvement with new features. We are grateful to our group of 82 pilot users who decided to join this project and test this innovative solution with us. Thanks to the feedback they contribute with, Sunči will soon have some new functionalities.
Uz aplikaciju Sunči i poticajne intervencije do novih energetskih navika – See here this blogpost in Croatian.